What can be more simple than going outside to encourage children to appreciate nature, the rivers, the dirt, the puddles, the bugs, growing our own food… and whatever else we can find in the natural world? And that's how we do it. We go outside.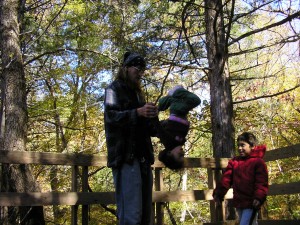 My husband, Michael, is notorious for going outside just to be outside – even when it's cold. He meditates outside, prepares the fire pit for fire ceremonies, takes walks, maintains the yard, builds gardens, starts and plants seeds, plays basketball, swings on the tire swing, contemplates, clears brush, plays with the dogs, climbs rocks, dives off of bluffs, and chops wood. Of  course, that's just a drop in the bucket for him because he really, really loves to be outside.
The kids follow him. 🙂
I love the outdoors just as much, although I do not go outside quite as often – especially when it's cold. When I am not enjoying nature with them, I support their appreciation of the outdoors by asking the kids if they want to go play with the dogs, swing on the tire swing, play in the dirt or sand, pull weeds, pick up trash or cans, take a swim, ride bikes, look at bugs, find something interesting, enjoy the breeze, feel the rain, or whatever else they may safely explore.
That leaves a lot of room.
Bugs and I have had an interesting relationship together and I have come a long way in appreciating their presence in the last few years. Now when a wasp comes in the house I gently escort it back outside. As the kids point out or bring me a bug, I smile at their genuine curiosity and appreciation for the balance of nature. Truly, all creatures have their value in the world.
Ticks are common in our area and we've come to realize they can help a person increase body awareness. Through intending to notice them crawling on me I have become more sensitive to their journey towards a place to attach and suck my blood.  Since ticks numb the site before biting it is possible to get a bite without realizing it, unless you focus on being aware of the sensations of the body. Now I most often find them crawling, not sucking – which also applies to negative thoughts or energy in the environment.
At Michael's parents we visit the chickens, goats, horses, and dogs… and bugs. His mom loves to be outside as well. The kids follow her, too.
During warm months we visit parks, rivers, and lakes regularly. The kids learn to swim, jump, and socialize with people of all ages while they build skills and develop confidence in their abilities. We feel grateful to live in an area where we are surrounded by clean water and plenty of trees to climb. As you can see, I'm not afraid to get messy in our adventures to appreciate the outdoors.
The farmers' market, community garden, and our home garden allow the kids to see people growing their own food so they know it's possible – even if we do much of our shopping at the local grocery or health food store.
In simple terms, we lead by example. We go outside. 🙂
---
Are you struggling as a parent? If so, I'd like to share something with you: a story and some hope.